Biosafety Heroes Program
The IFBA has created a Biosafety Heroes program to identify and celebrate extraordinary individuals who make significant contributions to help others in the field of biosafety and biosecurity. IFBA Biosafety Heroes are exceptional and inspiring individuals honored by the global biosafety community as having made a difference for the better. Biosafety Heroes serve as role models, showing others that each individual is important and can contribute to the global fight against infectious diseases.
Selection Criteria:
Nominees are selected on their uniqueness, the specific accomplishments they have achieved that are truly remarkable, and the impact their work has had on others.
Preference is given to individuals who

operate in an environment where biosafety/biosecurity funds are limited, and/or where the importance of biosafety and biosecurity is not fully appreciated.
have not yet been recognized with other biosafety or biosecurity awards.

Nominations are welcome for people at all stages in their careers.
Selection Mechanism:
Nominations can be made by anyone. They should be emailed to the International Federation of Biosafety Associations: secretariat@internationalbiosafety.org

The deadline for nominations for the 2022 awards is 20 December 2022.
Nominations are welcome at any time. Once received they will be considered for at least one year.

Winners are chosen by a selection committee based on the criteria outlined above.
2021 IFBA Biosafety Hero
The following outstanding individual who, through recognition by an international panel of their peers, has been awarded the distinction of being named IFBA's 2021 Biosafety Hero.
Dan Dano Ibrahim has been a champion for biosafety and biorisk management in Niger and the West African region for several years. As a leader in the West Africa Biorisk Management Trainers Network, he has trained many medical and veterinary staff in the region, as well as mentoring additional trainers. He provides ongoing assistance to West African institutions in preparing their biosafety manuals and participates in the drafting of national directives related to biorisk management. Dan Dano Ibrahim is one of only a few people in Niger to have achieved IFBA Certification in Biorisk Management and encourages other to do the same. In these and other ways he has tirelessly advocated for biosafety, despite frequently limited resources.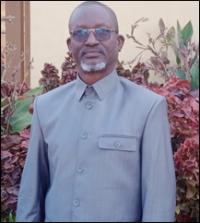 Dan Dano Ibrahim
Qualiticien/Biosécurité & Biosureté
Chargé de Recherche/Chef Service Qualité
Centre de Reserche Médicale et Sanitaire, Niamey, Niger
Past recipients of the Biosafety Hero Award