Connecting Sponsors with Candidates
Sponsoring a certification candidate is a powerful way for corporations to strengthen local capacity and showcase their commitment to bringing substantial benefits to institutions and communities in which they operate. Corporations who sponsor candidates' exam fees clearly demonstrate their belief of equal opportunity and that no individual should be deprived of taking the certification examination solely by reason financial limitations. On a global scale, sponsorship fosters the engagement of a network of certified biosafety professionals who exemplify positive attitudes towards managing biological risks and the day-to-day practices which naturally follow.
Current Certification Sponsors Testimonials
How Certification Allowed me to be Appointed as a Biorisk Management Delegate in My Laboratory
In Algeria, workers are exposed to biological risks in various fields. I have been working at Pasteur Institute of Algeria since 2011 as a research-associate in vaccine production and development, I recently had the great opportunity to get my IFBA certification, consequently, my opinion towards Biorisk Management has been taken into account by my managers and colleagues; also, they have become more curious about this interesting field, they are therefore more aware and open to get involved in Biorisk prevention strategies. In order to play an important role, they want to be trained and certified, but it's not affordable for everyone to self-fund the courses and the exam fees, for this reason, I reckon that sponsoring people around the world and paying for their exam fees is more than necessary to improve Biorisk Management especially in low income countries.
Personally, being sponsored to take the exam helped me to become an IFBA Professional Certified in Biorisk Management and also allowed me to be appointed as Biorisk Management delegate in my laboratory and participate in training sessions and workshops for this purpose. Just after that, we started to create a working group with interested teammates to improve Biosafety and Biosecurity at our workplaces and environment, we had begun to develop a plan for the existing procedures related to Biorisk Management implementation, then identify the different hazards, risks and biological threats in each step, then, we started the Biorisk assessment with the BioRAM software. Our first founding gave us an overview about some common factors related to the likelihood and high consequences of Biorisk, such as: waste management, inadequate personal protective equipment, equipment maintenance and the inappropriate storage of some biological material. Thanks to the IFBA Biorisk Management certification that has given me the necessary eligibility and qualifications, my colleagues and I were able to convince the administration to provide us with inexpensive but necessary equipment to make the existing risks acceptable, waiting for more complex improvements.
Recently, I had the honor to represent my country by participating in an international Biorisk Management event "BIORIM 2019" held in Tunisia, which led to the creation of the Biorisk Management MENA-Network. All these events that have occurred recently have allowed me to improve my scientific career and broaden my social and professional network; this will undoubtedly lead me to play a relevant role locally and internationally.
Mohamed HAMIDOUCHE,
Vaccine Production and Development Department Pasteur Institute of Algeria
Over the last decade, training and education in biosafety and biosecurity have been growing and evolving in LATAM.
Merrick & Company understands the importance of supporting biosafety associations in LATAM by providing sponsorships, teaching and presenting relevant topics that focus on sustainable master planning, design, construction, commissioning and operation and maintenance of Biosafety Level (BSL) 2, 3 3Ag. and 4.
Merrick is currently supporting the development of biosafety in Argentina by sponsoring candidates who want to obtain Level 1 Professional Certifications at the Asociacion Argentina de Microbiologia 2019 Conference in Buenos Aires.
Merrick intends to continue its engagement with the biosafety community in LATAM in years to come, and welcomes input from new potential partners.¨
Arq. Luis Linares M.Arch., BEDS, BA
Vicepresidente Merrick Mexico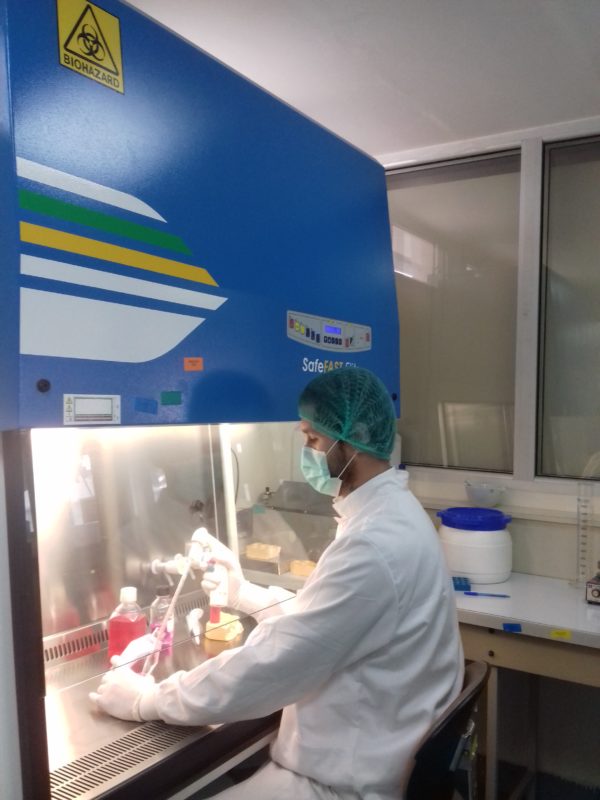 How Certification Allowed me to be Appointed as a Biorisk Management Delegate in my Laboratory
Mohamed Hamidouche
Arq. Luis Linares M.Arch., BEDS, BA
Current Certification Sponsorship Opportunities
How Does Sponsorship Work?
The IFBA partners with corporations and partners who wish to sponsor a candidate's certification exam or recertification fees. Pairing of sponsors and candidates in a country or region is based on several criteria including:
The sponsor's desire to support an individual in a certain country or region based on their core business
A need identified by the IFBA or its Member Biosafety Associations
Requests from individual candidates for sponsorship of their exam fees
Payment for candidate exam fees are made directly to the IFBA Secretariat and not to the individual candidate.