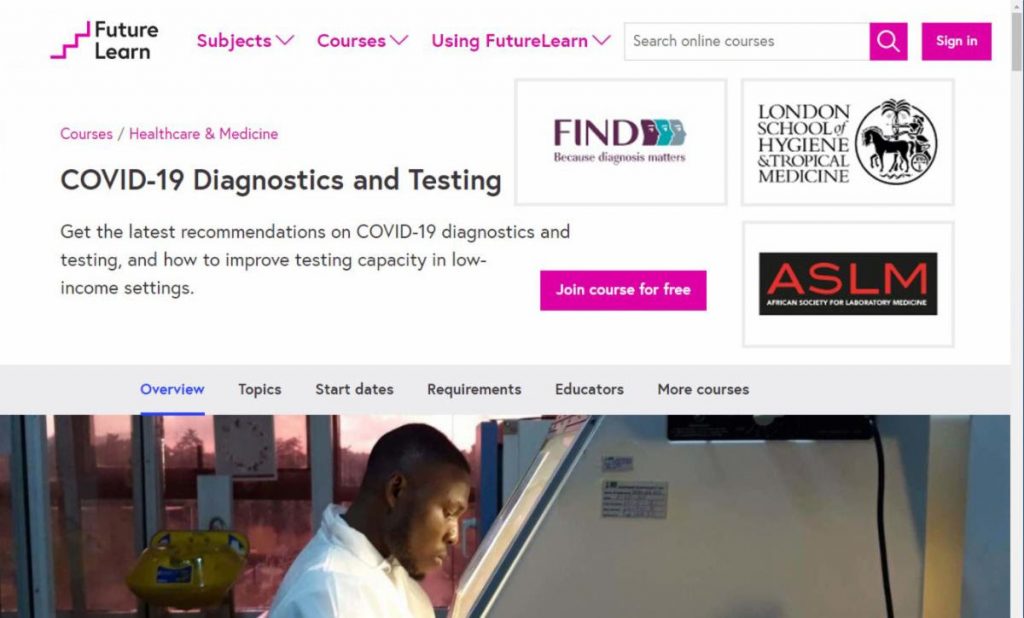 ASLM is excited to announce the launch of a free massive open online course on 
COVID-19 Diagnostics and Testing
 in partnership with The Foundation for Innovative New Diagnostics (FIND) and the London School of Hygiene & Tropical Medicine (LSHTM). The course begins on Monday 20 April 2020, lasts three weeks, and is available to join now on leading social learning platform, 
FutureLearn.com
.
As the world struggles to contain the COVID-19 outbreak, healthcare infrastructure and testing capacity have emerged as major issues. Countries surge their ability to detect and monitor COVID-19, in a context of many unknowns in terms of most effective and reliable testing algorithms, technologies and strategies to deploy diagnostic capacity across laboratory networks. Sharing up-to-date information and most recent guidance in a rapidly-evolving scientific and technological landscape is key to support the scale-up of COVID-19 diagnostics, especially in low- and middle-income countries.
During this course, you'll discover the latest recommendations on COVID-19 testing and get up-to-date information on the performance of tests, and how best to deploy them. Topics covered include:
The current state of the COVID-19 pandemic and the role of diagnostics in the response
The different types of diagnostic tests and their use in the COVID-19 outbreak
The current recommendations on use of COVID-19 diagnostics and testing strategies
How countries are establishing and scaling up COVID-19 testing, and key considerations for safety, quality and impact of diagnostic services
Visit the 
course website
 today to find out more about the presenters and FREE enrolment.