Certified Professional's Spotlight
IFBA is proud to celebrate the achievements of our Certified Professionals all over the world
PROFILE
The International Federation of Biosafety Associations is pleased to spotlight Mr. Shaka O'Neal, an IFBA certified professional in Biorisk Management.
Mr. Shaka O'Neal is a registered Medical Technologist from Barbados with over 14 years in the profession. He holds a Master's Degree (Dist.) in Biosafety from the University of the West Indies as well as a Post Graduate Certificate in Laboratory Quality Assurance and Management from The Michener Institute. He is also the first and only Barbadian to date to earn his Professional Certification in Biorisk Management which he gained in 2022. Mr. O'Neal has served in numerous roles in the local professional medical technologist association -BASMET, ranging from floor member to Deputy Chairperson.
He currently works at Best Dos Santos Public Health Laboratory in Barbados in the Clinical Bacteriology department and in addition to his primary role as a medical technologist, he serves on the Laboratory's Safety Committee and was recently appointed as the Deputy of the Laboratory's Quality Assurance Committee.
He hopes to play a critical role in managing Biosafety and Biosecurity not only in Barbados but the Eastern Caribbean and is well on his way, as he is currently undertaking certification in the Shipping of Infectious Substances.
Mr. O'Neal is passionate about Laboratory Safety and Quality Assurance and hopes to have a meaningful impact on the profession by continually widening his knowledge base and being certified to meet international standards.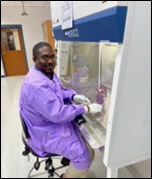 Shaka O'Neal, Barbados
-IFBA PC in Biorisk Management
PREVIOUS CERTIFIED PROFESSIONALS