Prepare for an Exam
The IFBA's examinations are a standardized measurement of the knowledge and skills expected of professionals in specific technical disciplines related to the management of biological risks. The IFBA publishes the content outline for each examination outlining the domains, task and knowledge statements specific to each technical discipline. Candidates are strongly encouraged to become thoroughly familiar with this content as part of their preparation. Sample questions and references have also been provided to assist candidates in preparing for the exam.
All Certification exams are available in English and can be taken online at any time. The prerequisite exam of Biorisk Management is available online in English, French, Spanish, Turkish and Arabic. Examinations in all other languages are only offered at a scheduled written paper-based session.
Training Courses
Potential applicants may also contact the IFBA's Member Biosafety Associations and other partners who currently offer training courses geared towards the IFBA's certification exam content.
The IFBA neither sponsors, nor endorses, nor financially benefits from any training or review courses for the IFBA examinations.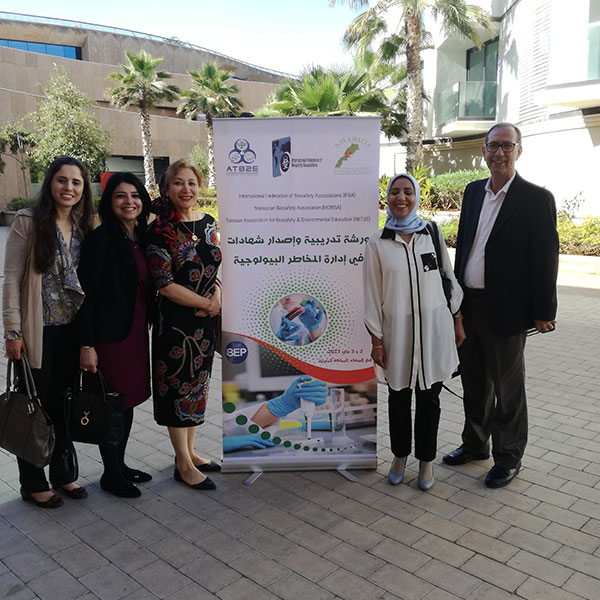 Certification Fees
The certification application fee for in each technical discipline is set at $200.00USD to cover administration costs. For convenience, the online Certifior application system enables payment of fees by credit card on the website. Payments can also be made by cash or cheque on-site at examination sessions held in conjunction with Member conferences. Please note that only the following currencies are accepted: CAD, USD, EURO, GBP and AUD. Certification application fees are non-refundable regardless of the outcome of the examination. If a candidate's application is rejected because of ineligibility, only a portion of the fee (i.e. $100.00USD) will be returned to cover costs of processing and reviewing the application.  The recertification fee in each technical discipline is set at $150.00USD to cover the costs of reviewing the application and administering the recertification process for each candidate.  Recertification application fees are non-refundable regardless of the outcome.
In order to increase accessibility of the certification program internationally and to resource-limited countries around the globe, the IFBA implements an international scholarship fee structure. The scholarship program is designed to empower those needing international credentials in biorisk management who live in resource-limited countries where economic circumstances impact their ability to pay the full certification and recertification fees. Applicants who currently reside and have responsibility for biorisk management in eligible countries will receive discounted certification fee pricing of $100.00USD (if a candidate's application is rejected because of ineligibility, only $50.00USD of the fee will be returned), and, a non-refundable recertification fee pricing of $75.00USD for all PC recertifications.
For a current list of eligible countries for discounted pricing, please contact the IFBA Secretariat at secretariat@internationalbiosafety.org.