The International Federation of Biosafety Associations is pleased to welcome the Brazilian Biosafety & Biosecurity Society (SB3) as an official Member organization. The SB3 is an independent, national organization founded by 25 professionals (https://sb3.org.br/diretoria/) aiming to be a reference institution on biosafety and biosecurity, open to new membership (https://sb3.org.br/associados/). SB3 influences and supports emerging policies, legislation, knowledge, and standards to prevent damage to humans, animals, and the environment, congregating biosafety, biosecurity, and correlated professional areas.
Our mission is to represent the collective interests of its members in all areas related to biosafety and biosecurity. In addition to promoting biosafety and biosecurity as a technical and scientific discipline in Brazil, through research, education, qualification, and responsible application of knowledge of biosafety and biosecurity in multiple areas of science, it seeks excellence in all aspects as a way to provide the safety of environments, products, and services considering the concept of One Health.
Our values are ethics, humanity, knowledge, responsibility, citizenship, transparency, sustainability, articulation, and integration.
For more information, please visit the SB3 website: http://www.sb3.org.br
E-mail direction: sb3.org@gmail.com
Instagram: https://www.instagram.com/sb3_biosseg/
Follow our webinars at SB3 Youtube channel: https://www.youtube.com/channel/UCKwMGwNyU82nu7xKVNgMSFw
Current Council Members: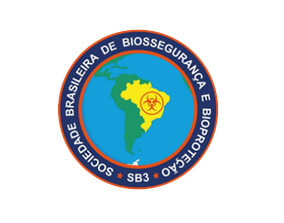 President: Claudio Mafra
Vice-President: Pedro Canísio Binsfeld
1st secretary: André de Oliveira Mendonça
2nd secretary: Paula Amorim Schiavato
1st Treasurer: Marcos Dornelas Ribeiro
2nd Treasurer: Luiz Eduardo Ramos da Silva