Spanish Association for Biosafety (AEBioS)
The IFBA is pleased to feature a different Member of our organization each month. "Get to Know our Members" serves to highlight the activities of our regional and national associations, allowing individuals to get to know others in our global biosafety community. Members are picked randomly each month to ensure equitable representation.
OUR PROFILE
AEBioS (www.aebios.org) is a Spanish non-profit organization founded in 2011 to bring together biosafety and biosecurity professionals to discuss issues of interest in this field and give support to their memberships. The association aims to increase knowledge and expertise in this area, favouring the exchange of experience and concerns and facing, in this way, an increasing demand in Spain, since a higher number of professionals are conducting their activities in scenarios where biological agents are handled and managed. This makes biosafety and biosecurity management strongly necessary to protect workers and the environment from the risks involved.
The association is built up of individual professionals, not representing companies or institutions, and it is not involved in union activities. The main objectives are the following:
Grouping professionals whose activities are carried out in the field of biosafety and biosecurity.
Promoting the improvement and advance in the knowledge in this field, and the development of techniques related to it.
Raising awareness of the need for and the benefits of biosafety and biosecurity management programs.
The main activities developed by the association include support for research and technological advances in biosafety and biosecurity, dissemination and exchange of scientific and technical information, lifelong training and collaboration with other related associations. Other important activities are:
Organization of events as meetings, conferences, workshops and exhibitions.
Calls for prize awards.
Edition of scientific, technical and educational publications.
Use of the mass media for knowledge exchange, data dissemination and training.
Collaboration with international related organizations.
Collaboration with organizations, committees, and/or groups related to biosafety and biosecurity from the Administration either at a local, national, or international level.
Currently, the association has around 130 members and a yearly variable number of sponsors coming from private companies dedicated to biosafety or biocontainment.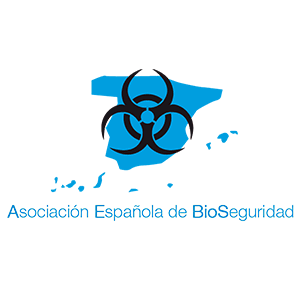 CONTACT
C/ Calvo Sotelo Nº2 Local
C.P 28130 Valdeolmos (Madrid)
Phone: 34-663-16-35-09
Fax: 613-231-3970
PREVIOUS FEATURED MEMBERS