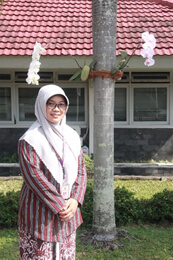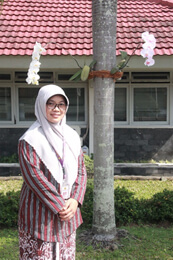 Dr. Sri Handayani Irianingsih
Indonesia
-IFBA PC in Biorisk Management
The International Federation of Biosafety Associations is pleased to spotlight Dr. Sri Handayani Irianingsih, an IFBA certified professional in Biorisk Management in Indonesia.
Dr. Sri Handayani Irianingsih is a Microbiologist from Indonesia and is currently serving as Coordinator of the Virology Laboratory in Disease Investigation in Centre Wates, Yogyakarta, Indonesia. She is also a Biosafety Officer in Disease Investigation in Centre Wates and involved in the Biorisk Management System for implementing biosafety and biosecurity aspects of a BSL-2 laboratory working with infectious and zoonotic agents. She constantly strives to enhance the capacity and implementation of biorisk management in her institution. Currently Dr. Sri Handayani Irianingsih still works in the virology laboratory but has also started work in the COVID-19 laboratory. In addition, she carries out investigation and surveillance of animal disease, as well as, viral genetic characterization (Avian Influenza, Bovine Viral Diarrhea Virus, African Swine Fever Virus).
Dr. Sri Handayani Irianingsih received her Doctorate for Veterinary Medicine in 2001 from the Faculty of Veterinary Medicine, Universitas Gadjah Mada. After graduating she commenced her work as a virologist, diagnosing viral animal diseases. She has also worked with cell cultures and virus isolation.
In 2010 Dr. Sri Handayani Irianingsih also received her Masters Degree in Biotechnology at the Graduate School of Universitas Gadjah Mada while maintaining her important virology work. In 2019 she completed her Doctorate in Veterinary Science at Veterinary Science Doctoral Study Program, Universitas Gadjah Mada all while maintaining her position as the Coordinator of Virology laboratory she worked in.