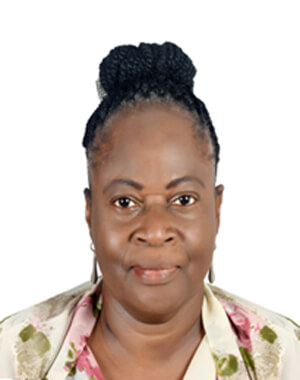 Abiola Olajumoke Tubi
Board Member (Nigeria)
Abiola Olajumoke Tubi is a certified Medical Microbiologist, and Laboratory Manager with the National TB, Leprosy and Buruli ulcer Control Programme (NTBLCP). She has over 20 years of progressive experience in the coordination and management of TB, TB-HIV diagnostic network, programmatic oriented projects, and strategic programme operations at domestic and international levels. Her experience cut across various levels and settings on laboratory planning, management, implementation, auditing, monitoring, and mentoring. Her major areas of competencies include laboratory program leadership and management, human resource development, disease prevention and biorisk management/Infection control.
She played a key role as the lead laboratory focal person for the successful coordination and technical implementation of the first ever TB Prevalence and Drug Resistance Surveys in Nigeria. Her core membership with the NTBLCP and other local and international organizations include the following: member of the TB laboratory technical work group, member of DR-TB Technical work group, core group member of the Global Laboratory Initiative (GLI), executive member of the Nigeria Biological Safety Association (NiBSA), member and certified professional of the International Federation of Biological Safety Association (IFBA), IFBA Board Member, IFBA international mentor and member of IFBA Certification Body. She was the pioneer President and Honorary President Emeritus of the Nigeria Biological Safety Association (NiBSA) and the 2nd President of the African Biological Safety Association.
In her career pursuit, she worked with the US-CDC in Nigeria as activity manager where she was opportune to manage major project grants for the US-CDC, USAID, and the US-Department of Defense (US-DOD) laboratory project plan and implementation. She bagged several awards during her work with the US-CDC under the PEPFAR-Nigeria project.