Rwanda Biosafety and Biosecurity Organization (RBBO)
OUR PROFILE
The Rwanda Biosafety and Biosecurity Organization (RBBO) is an independent, national organisation created on 1st November 2020. The membership is open to all biosafety and biosecurity professionals including biomedical engineers.
Vision – To be an excellent organization which provides effective and professional Biosafety & Biosecurity management and advice.
Mission – Promote the biosafety and biosecurity by enhancing the knowledge and practices of professionals, organizations and institutions concerned with Biosafety and Biosecurity in Rwanda.
RBBO will achieve its mission by:
Uniting biosafety and biosecurity concerned individuals/organizations/institutions in Rwanda.
Improving the human health, agriculture, animal farming and environment through the improvement of the biosafety and biosecurity in Rwanda,
Protecting environment and biodiversity through the improvement of the biosafety and biosecurity in Rwanda,
Training its members and partners and keep them well informed of the latest developments in biosafety and biosecurity.
Establishing professional guidelines, standards, and regulations for biosafety and biosecurity services in Rwanda.
Promoting and co-ordinating the use of quality control schemes of biosafety and biosecurity in the country.
Advising concerned Ministries and other related institutions on biosafety and biosecurity policy.
Advancing biosafety and biosecurity as a scientific discipline through education and research.
Promoting the development of relevant work practices, equipment, and facilities in biosafety & biosecurity domain.
Raising awareness among civil society and public authorities on issues related to biosafety and biosecurity.
Developing collaboration and partnership with national and international associations / organizations pursuing similar aims / mission.
For more information, please visit www.rbbo.org
Email: rwandabiosafety@gmail.com
Twitter: @BiosafetyRwanda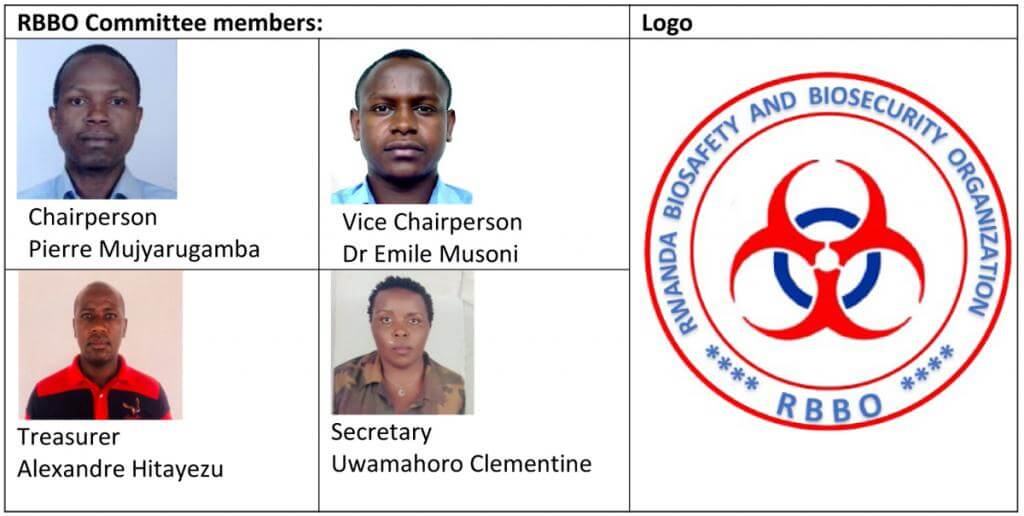 PREVIOUS FEATURED MEMBERS